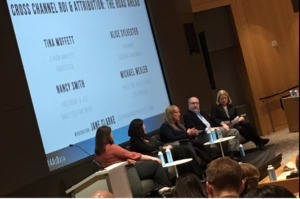 February 7, 2017 | Convene – 32 Old Slip, NYC
Alice Sylvester, from Sequent Partners, joins Cross Channel ROI and Attribution: The Road Ahead panel led by Jane Clarke, CEO, Managing Director, Coalition for Innovative Media Measurement.
Understanding drivers of ROI across channels is a critical need for all marketers. There are a variety of solutions including Market Mix Modeling, multi-touch attribution and others . Hear from experts on how these solutions are currently being used and about the industry data and organizational challenges that need to solved to advance the current state.